Sleep Better Diffuser Oil
£7.99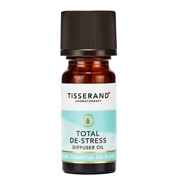 Total De-Stress Diffuser Oil 9ml
£7.99
Make a room at home or work smell fresh and beautiful and scented with whatever essential oil you desire with Tisserand's vaporiser. This electrical diffuser device enables worry free vaporising of oils without the need for a traditional burner with naked flame.
Essential oils are highly evaporative which makes them ideal for use in a vaporiser.
All you need is between 6 and 12 drops of your favourite oil, or blend of oils to create a special ambiance all of your own making.