Grapeseed Blending Oil
£6.99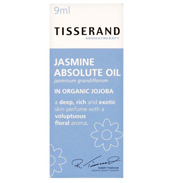 Jasmine Absolute Oil
£7.10
Peach Kernel Blending Oil
£4.50
Wheatgerm Blending Oil
£4.13
SPECIAL OFFER
Wild Rose Pulse Point Perfume
£8.95
Essential oils can be very potent as they are highly concentrated which may cause a skin reaction and as such they are not designed to be used directly on the skin, which is why Tisserand have a complimentary range of massage and blending oils available for use.
Blending oils are sometimes referred to as carrier oils and Tisserand's range of oils includes Avocado, Grape Seed, Jojoba, Soya Bean, Sweet Almond, Peach Kernel and Wheatgerm. They also have pre blended carrier oils suitable for body & face.
Pre blended essential oils are also available including precious essential oils such as Rose Absolute in Jojoba, which makes them more affordable, and in addition Tisserand have an brilliant range of massage blends in the form of Roller Balls containing a master blend of mixed aromatherapy oils blended in a carrier oil base designed to glide over pulse points and are perfect for travelling. So whether you are looking to energise, de-stress, or relax you will find something to suit here.
When preparing your own Tisserand massage blend, as a rough guide for body use, say, use 5 drops of your favourite essential oil, or blend of essential oils, to around 10mls (approx 1 tablespoon) of your favourite blending base, whether this be an oil or lotion. If using on the face only 2 drops of the essential oil should be used.
For bathing, the essential oils can be dispersed directly into bath water, however for a little bit more luxury blend first with a carrier oil before adding to the bath water.
On this shelf you will also find the essential Tisserand mixing bottle allowing you to create your own unique blends, which is a must.
For all your Tisserand massage oil mixing and blending needs.