Pure Tea Tree Oil
£6.58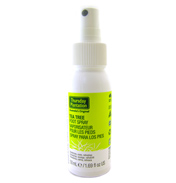 Tea Tree Foot Spray
£10.24
This brand was started by somewhat of a pioneer back in the 1970's. A chap called Eric White had the idea that Tea Tree oil was the next up and coming thing so decided in a moment of genius to start a Tea Tree Oil plantation in northern New South Wales, Australia. After much hard work, research and campaigning a lease was granted to him by the Crown to set up his plantation, so trees ordered he just had to come up with a company name – easy though, the trees arrived on a Thursday – his very own Thursday Plantation!
With regards Tea Tree oil (also known as Melaleuca alternifolia) it had actually been used by the indigenous people of Australia for thousands of years for healing, and for its antiseptic qualities. The scientific background to these qualities was backed up by scientists as early as the 1920's and its popularity grew in the 30's and 40's particularly during the war years when it was used in first aid kits for soldiers and well used for its anti fungal properties. The oil has actually been proven under numerous studies to kill a broad spectrum of bacteria and fungi as well as inhibiting their growth. As an interesting aside the oil actually fell out of popularity in the 1960's though as cheaper chemical substitutes came onto the market – that was until Eric brought us all to our senses again.
The product is still Australian made and as well as the essential oil it is now the base for many different types of product from foot powder to body wash and deodorant and the tea tree oil used within the products is of high quality, and of therapeutic grade. Thursday Plantation has set worldwide standards for quality assurance, safety and toxicology which means you are in safe hands when choosing these products.
Discover the magic of a natural Australian therapy in Thursday Plantation.