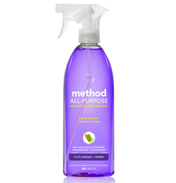 All Purpose Cleaning Spray
£3.08
All Purpose Wipes
£3.59
Daily Shower Spray
£4.10
Glass Cleaner Spray
£4.10
Hand Soap
£3.33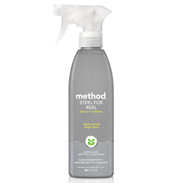 Stainless Steel Cleaning Spray
£6.78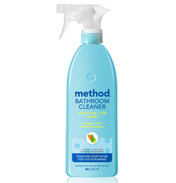 Tub and Tile Spray
£3.00
Wood Floor Cleaner
£4.34
Here you will find the environmentally friendly range of Method Cleaning Products. They look good on your shelf so you won't need to hide them away, smell good hence give your nose a treat, and are kind to you and help save the World from 'nasties' usually found in conventional cleaning products. All helping you sleep easy at night.
They have got home cleaning, dish cleaning, laundry as well as hand & body covered so help look after the environment and start to actually enjoy your chores with these natural, biodegradable products. All the containers are recyclable too.
The All Purpose Cleaning Spray is a good all rounder, both Lavender and Grapefruit leave a trail of freshness and shine in their wake. For general home cleaning products they have bathroom and kitchen products including the specialist glass, granite, stainless steel and wood cleaners which are truly brilliant. For dishes you have manual or auto options. For hands the range of gel and foaming hand washes are excellent and the laundry choices include a wash and fabric softener which come in little pump action dose dispensers so you don't waste any unnecessarily.
The good thing is these Method products actually do work, so the cleaning ability has not been compromised - they do the job they say they do. The Method products use surfactants which are naturally derived rather than chemically based ingredients, so if you use these products there will be no more teary eyes and burning lungs. So safe to use around humans and pets!
When cleaning we are trying to remove dirt, not replace it with a different sort of dirt, so do yourself a favour and use Method products which have no dirty ingredients at all. You won't be able to help but enjoy their wonderfully scented products – maybe a bit of fruit, herbs or flowers to invigorate the senses. From plants, not chemical plants!
Make cleaning happy. Method are 'People against Dirty' so join their Methodology revolution today!