Long Stiletto Long Length Full Cover Nails
£8.99
Maximum Speed Nail Glue
£6.99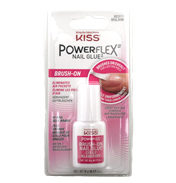 Powerflex Brush-on Nail Glue
£4.99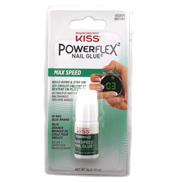 Powerflex Max Speed Nail Glue
£4.99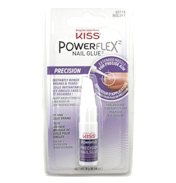 Powerflex Precision Nail Glue
£4.99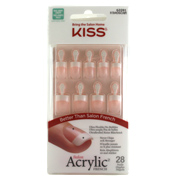 Salon Acrylic 28 French Nails
£9.99
Salon Acrylic Glue-on Medium Length "Simple Life" French Nails
£7.90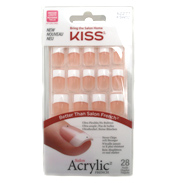 Salon Acrylic Glue-on Medium Length Sugar Rush French Nails
£7.99
Salon Acrylic Glue-on Petite Length "Crush Hour" French Nails
£6.99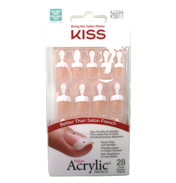 Salon Acrylic Glue-on Real Short Length "Power Play" French Nails
£7.99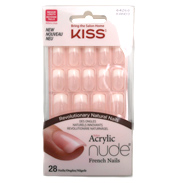 Salon Acrylic Nude Glue-on Medium Length "Cashmere" French Nails
£9.99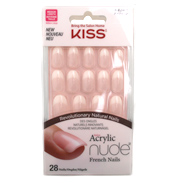 Salon Acrylic Nude Glue-on Medium Length "Graceful" French Nails
£7.90
A range of salon quality products for you to use in the home. Kiss is a much loved brand of artificial nails to give you that instant manicured look.
When your own nails are not up to scratch and you wish to conceal them, or you prefer the 'polished' look, or want your nail polish to last that bit longer then choose the number one professional choice brand of nail enhancements. They are also great for nail biters too, as not only do they hide unsightly bitten nails, but they stop you biting your own nails, because you can't!
Try the 100 Nails kits in Curve Overlap or French Overlap which have an array of different shapes and sizes so you can be sure of a perfect fit and form. Each nail can be trimmed and filed to size and shape for your own decoration.
The wonderful bonus about applying false nails at home it that there is no need to make an appointment at the beauty salon so there is no more squeezing into your lunch hour or after work when you can apply them at home whenever you like.
Kiss false nails kits are also available in easier to apply, all in one, application sets which include clean break tabs for easy application and also designs which are ready finished; these sets do require gluing on which is also included. Designs in this range include Everlasting French which has a full cover French design with a patented technology which is guaranteed not to chip. The French polished look is timeless and elegant and designed to mimic a natural nail with pink bed and white tip.
Other designs in this Kiss products range include Catwalk which has full cover nail designs straight from fashion runways for fashion nails and Luxury nail kits which have beautiful, hand designed nails for the ultimate in precision manicure.
If you prefer not to fiddle around with glue Kiss also do Pre glued nail kits which are the quickest and easiest to apply as the glue is already pre applied to each nail so they just need sticking on.
Of course we don't just have nails on our hands so try Kiss's range of false nails for toes to give you an instant pedicure as well as manicure. No more trying to hide unsightly toe nails, wear your sandals with pride!
Kiss also do a range of false eyelashes which are easy to apply and make your eyes look utterly fabulous.
For strong, natural looking nails, and fabulous eyelashes, choose Kiss, the world's largest manufacturer and distributor of professional nail products (including Broadway Nails). Make them your number one choice too.