Facial Sunblock SPF20
£13.85
Family Sunblock SPF45
£12.99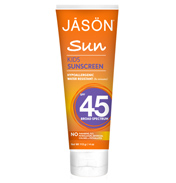 Kid's Natural Sunblock SPF 45
£12.99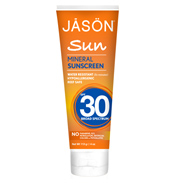 Mineral Natural Sunblock SPF30
£13.99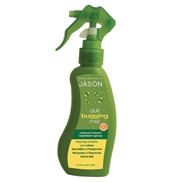 Quit Bugging Me Insect Repellant
£7.99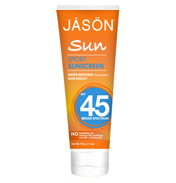 Sport Sunblock SPF45
£12.99
Protect you and your family from the damaging effects of the sun with this natural range of sun care lotions from JASON. A number of broad spectrum mineral based sun blocks are available in a range of SPF's (Sun Protection Factor) from 20 to 45 – nothing less you will find here for sitting under the sun.
The higher the number of SPF the greater the level of sun burn protection from the sun's harmful UVA and UVB rays. SPF 45 is available in Family for general use, Kids for more tender skins and Sport for sweat and water resistant outdoor activities. SPF 20 is specifically designed for use on the face and this Facial option is great for use every day under make up.
The Kids sun cream is hypoallergenic and is suitable for sensitive skin and also for small babies over 6 months old. An all mineral protection hypoallergenic sunscreen is available too (SPF 30) which is both chemical and fragrance free and suitable for very sensitive skins.
The insect repellent is called Quit Bugging Me and will keep most of the nasty bugs at bay for around 3 hours including midges, mosquitoes, and other flying biters. In handy insect spray container for an easy application and full of natural ingredients..
Keep the sun and insects at bay with the help of JASON and catch the sun safely