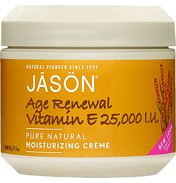 Age Renewal Vitamin E 25000iu Cream
£10.20
Anti-Aging Tea Time Moisturising Cream
£11.29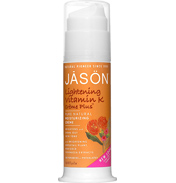 Lightening Vitamin K Crème Plus Face Cream
£19.99
Nourishing Cocoa Butter Cream
£6.49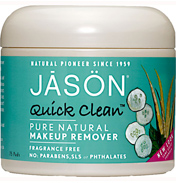 Quick Clean Makeup Remover Pads
£7.29
Revitalizing Vitamin E 5000iu Cream
£7.29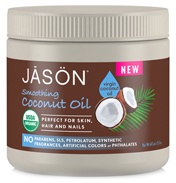 Smoothing Coconut Oil For Skin, Hair & Nails
£12.99
Vitamin E Oil 14.000 I.U
£10.50
Vitamin E Oil 45.000 I.U
£12.99
JASON has been around since the 1950's, and at that time they were leading the way in the field of natural skincare, hair care and bodycare products offering discerning customers a choice between the nasty toxic chemical products available during those times and a more natural way of personal grooming. Of course these days we are all very much wiser in what we choose to apply to our skin but in those early days JASON were leagues ahead of other brands.
Jason products are simple in that they are as pure, organic, and beneficial as they possibly can be. Taking the very best from what nature has to offer they have created a wonderful range of natural skincare products, which are not only planet and human kind but also animal welfare friendly - and they smell really good too!
In this area you will find excellent selections of cleansers and moisturising creams as well as well as other skin care beauty products such as their Vitamin E range of oils, the unscented Fragrance Free and Red Elements ranges.
Their range of moisturising Crèmes is available in Wild Yam which is designed for menopausal skin and is ultra hydrating and comforting; Green Tea suitable for its antioxidant anti ageing properties; Cocoa Butter for extra dry skin; and Vitamin K which is used for to even out skin tone. A lip smacking lip balm is also available to make parched lips kissable once more.
The Vitamin E range includes a regular 5,000IU cream to revitalise as well as a more potent 25,000IU version designed to help minimise the effects of skin ageing. Vitamin E is rich in antioxidants, to fight damaging free radicals, and is generally sold with the corresponding strength noted too which is a measure of IU (International Units). The higher the number, the higher the strength of Vitamin E within.
In addition there is a range of Vitamin E oils for face and body which contain varying strengths of Vitamin E plus 5 other nourishing oils Almond, Apricot, Avocado, Wheatgerm and Sunflower. Unfortunately they decided to discontinue the Organic Jojoba Beauty Oil much to many customers' disappointment so try one from the Vitamin E range instead.
Facial cleansers include the popular Quick Clean Make Up Remover and gentle facial wash and scrub Apricot Scrubble. The Red Elements range also includes a number of face washes and cleaners. JASON Red Elements is a collection of products containing Red Tea Extract from South Africa with a toner and eye cream.
Skincare products and gifts from JASON designed to make skin naturally beautiful and youthful looking.