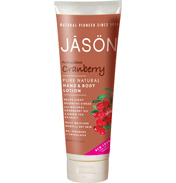 Antioxidant Cranberry Hand & Body Lotion
£7.99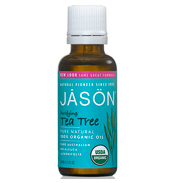 Purifying Tea Tree 100% Organic Oil
£16.72
Jason bodycare and personal care products are developed with the consumer's well being in mind and to free their daily bodycare rituals from unnecessary chemical burdens. In doing so they also help protect the environment - not only the planet's precious resources but the animals on it as well. After all the name JASON actually means 'healer' in Greek.
Their range of hand and body lotions comes in handy tubes with are useful for ease of application. There are a number of different moisturisers available including gorgeous smelling Vanilla to revive tired skin; Rosewater to tone, refresh and invigorate; Lavender which is aromatic in scent and calming on the skin; Wheatgerm with Vitamin E to soothe; Evening Primrose Oil which is rich in essential fatty acids (EFA) to strengthen and moisturise; Apricot to help dull skin glow again; Cocoa Butter which has its role for very dry skin to help soften and soothe; and Hemp which also is great for very dehydrated skin. Finally there is an unscented option for those with more sensitive or irritated body coverings.
A 100% Organic Tea Tree Oil is also available for topical application, a natural skin relief for face, body and hands.
Natural and botanical choices from JASON for soft, smooth, delicately scented skin.