Calming Lavender Deodorant Roll-On
£7.99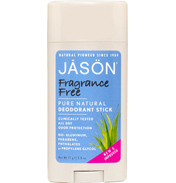 Fragrance Free Deodorant Stick
£8.99
Fresh Deodorant Stick for Men
£7.99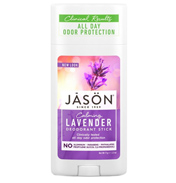 Lavender Deodorant Stick
£5.99
Nourishing Apricot Deodorant Stick
£7.99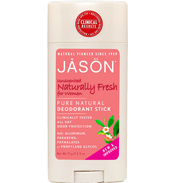 Organic Fresh Deodorant Stick - Women
£7.99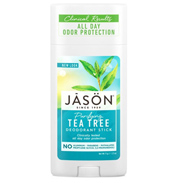 Tea Tree Purifying Deodorant Stick
£6.99
JASON products are categorically not tested on animals, nor use any animal by-products in their formulation. They are also SLS (Sodium Laurel Sulphate) and paraben and Phthalate free, have no hidden ingredients – everything in the product is displayed on the label, are vegetarian and are as natural as they possibly can be, with some even being organic.
Natural deodorants should not suppress one of the body's vital functions of sweating, rather their design is such that they contain natural ingredients to stop unpleasant smells developing and to neutralise any such body odours. In addition ingredients rich in antimicrobial properties are added, again to combat odours produced by certain bacteria which live naturally on the body. JASON have developed a really popular range of roll on or stick deodorants in delectable Apricot, Lavender, Tea Tree, Fresh and Aloe Vera. No pore clogging ingredients are found here, nor aluminium (which has had reported links to cancer), just skin softening and soothing ingredients which have been clinically tested for all day protection.
There is one reason why JASON natural deodorants are so very popular, they actually work.