C-Effects Anti-Wrinkle Day Lotion SPF30
£17.99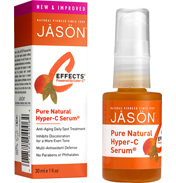 C-Effects Hyper-C Serum
£25.49
C-Effects Moisturising Cream
£16.97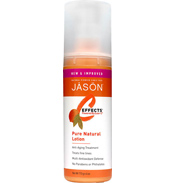 C-Effects Moisturising Lotion
£15.99
It all started in 1959 when a group of Californian individuals decided enough was enough. Too many chemicals were being added to skincare products, and although these chemicals gave results, in the process individuals were subjecting their bodies to unnecessary and sometimes dangerous chemicals. So they decided to seek out, and in many instances rediscover, natural alternatives and in doing so created a marvellous range of skin loving and body caring products. Generations have passed yet JASON remains true to the original course of the first natural skincare pioneers creating range after range of exceptional products including the very popular JASON Ester C range.
This collection is specifically developed for its anti ageing properties and as such is also referred to as their Anti Ageing Range or is also sometimes called Ultra C, C Effects, or Super C. Each product in this range harnesses the benefits of Vitamin C as well as something which JASON refers to as ESTER C which is basically a mix of multi antioxidants. Antioxidants help fend off free radicals which are said to be one of the contributory factors of wrinkles and premature skin ageing, and result from environmental conditions such as pollution, sun, poor diet, and stress.
Although it is best to use as a full treatment programme for maximum benefits, the most popular products within this range are the Ultra-C Eye Lift to firm and smooth the delicate under eye area, and the C Effects Moisturising cream and lotion. Other items within the range include a Skin Tone Balancer, Hyper-C Serum for high dose daily spot treatment, and a cleanser and toner.
Choose the Vitamin C Effects range, powered by Ester C from JASON, to stop premature ageing in its tracks.