Aloe Vera Soothing Hand & Body Lotion
£9.99
Moisturising 84% Aloe Vera Natural Conditioner
£6.99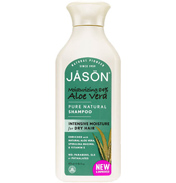 Moisturising 84% Aloe Vera Natural Shampoo
£7.99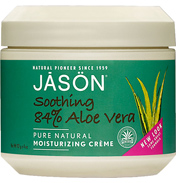 Soothing 84% Aloe Vera Moisturising Cream
£9.99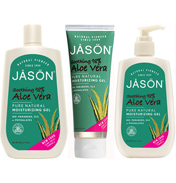 Soothing 98% Aloe Vera Gel
£11.99
Soothing Aloe Vera Body Wash
£11.99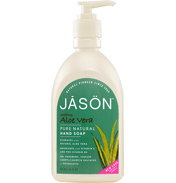 Soothing Aloe Vera Hand Soap
£7.75
Discover the hidden secrets of aloe vera with the help of JASON.
The aloe plant (Aloe Barbadensis) is a succulent with large, thorny fleshy leaves which look a bit like a cactus without the spiny needles. Slicing the leaves open reveals the thick gel within. This almost transparent gel is delicately scented and almost odourless.
Aloe has been used since the earliest times for its soothing and healing properties and is used often for common skin conditions such as sunburn and minor wounds. Sometimes it is even referred to as the 'First Aid Plant'.
As well as Aloe Vera Gels JASON produce a 100% organic Aloe Vera beauty Oil. The full range includes a highly concentrated 98% soothing skincare gel which is perfect for irritated skin, an equally soothing 84% gel, body lotion, shampoo and conditioner as well as a 70% body lotion - most of these containing the added Aloe in its certified organic form. The gels are oil free, easily absorbed and are excellent as a treatment for dry skin.
Nurture your skin back to health with the amazing JASON aloe vera hair and skin care range.