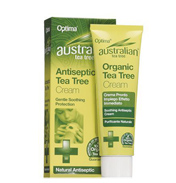 Optima Australian Antiseptic Tea Tree Cream
£6.99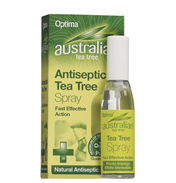 Optima Australian Antiseptic Tea Tree Spray
£4.99
Here you will find the smaller brands of natural and organic skincare and bodycare producers. Each one of these brands is equally brilliant so read a little bit more about them.
Organic Surge is a range of skincare products rich in natural plant extracts and organic essential oils which they are proud to say contain at least 90% natural ingredients with some closer to 99%. Happy formulations mean happy people and a happy planet. The collection includes bath products, skin and body care lotions and potions as well as hair care products many of which will become your skin's best friend. For each product sold Organic Surge donates a proportion to help vulnerable children in Africa, so as well as making you feel good on the outside these products will help make you feel good on the inside as well.
Organic Surge products are cruelty free, vegan, DEA free, sulphate free, perfume free, paraben free, SLS free, and propylene glycol free as well, helping you to love the skin you are in.
Next onto Moom, which is an organic, natural hair removal range based on a sugar gel of chamomile, lemon juice, water and tea tree oil. It was developed in the 1970's by a lady called Jinous Nouri who was a chemist by profession and wanted to create a skin kind, non-chemically based, hair remover for her daughters. Keen not to ignore the skin whilst removing the unwanted hair she managed to incorporate skin enhancing ingredients which are water soluble and as well as removing hair by the root it also removes dead skin and other skin impurities for softer skin with long lasting results. These premium ingredients are cost effective and kind to the environment too.
Choose Moom's hair removal sugar gel and cream kits for unwanted leg, bikini and underarm hair formulated for both men and women.
Balm Balm is another 100% natural and organic product and has a range of skincare goods including lip balms. Made by a family company who only use trusted suppliers Balm Balm is jam packed full of love and the Fragrance Free Lip Balm pot is crammed full of the gentlest of ingredients including Shea butter, sunflower, beeswax, jojoba & calendula plus essential oils are extra add ins for the Rose Geranium version. Use on lips, elbows, heels, and other dry bits – where ever you fancy really! Just to make it official - their organic status is certified by the Soil Association.
Natural products, most organic – love them and they will love you.