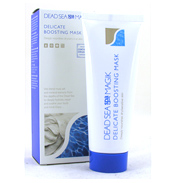 Delicate Boosting Mask
£6.99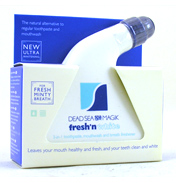 Fresh N White Toothpaste
N/A
Sunsafe Sun Cream
£16.99
Dead Sea Spa Magik is made by a company called Finders International which is at the heart a family company based in the UK and has been for over 25 years. They were the first of their kind to introduce a spa range of Dead Sea products and have brought the science of the spa and the Dead Sea to us at home via their Dead Sea Spa Magik brand which today is one of the best known brands of Dead Sea products worldwide. It is not always possible to make time (or afford the expense) of a professional spa so this is a great range of affordable products which have all of the benefits and can be used everyday – so bring the spa into your home.
The range of Dead Sea Spa Magik skincare and bodycare products has at the centre a blend of natural compounds, mud and salts extracted from the Dead Sea which are renowned for their therapeutic effects. The Dead Sea salts contain a rich mix of some 21 healing minerals with the most widely known of those being: Magnesium the anti-stress mineral, Potassium and Sodium to purify and hydrate, calcium the anti ageing mineral, bromide (of which the dead sea has the most of all water on earth) for relaxation, Sulphur to heal, and Iodine to detox. Compared with other sea water the sodium chloride salt concentration of the Dead Sea is significantly lower which is one of the reasons why you can float in it so easily. A product is available which is the Dead Sea Spa Magik Bath Salts which is a pure version of the Dead Sea salt and can be used for many curative and restorative effects including for the skin conditions eczema and psoriasis.
Other Dead Sea Magik products include those for the face (try Black Mud Soap), body (try the Salt Brushing Scrub), hair (try their natural Mineral Shampoo) plus sun protection sun creams, oral hygiene (try Fresh N White Toothpaste) and the bestselling Algimud which is a seaweed and Dead Sea mud peel off mask. The benefits and uses of these miraculous salts are multiple and cover anti-ageing, skin dryness, de-stressing, sensitive skin, relaxation, detox, blemishes, achy joints, flaky scalp, and dull lifeless hair to name but a few!
The products are not tested on animals, do not contain parabens, have a harmonised water base, allergen free fragrance and added certified organic ingredients.
Treat your skin, mind and body with the holistic effects of the Dead Sea through Dead Sea Spa Magik.