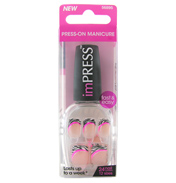 imPRESS Patterned Nail Covers
£6.99
Whether you call them false, fake, temporary or artificial nails, or even fashion nails or nail enhancements, Broadway nails is one of the most well recognised and respected brands to use.
Broadway Nails was one of the first available of their type which allowed wearers to achieve salon like results for their manicures at home. They are quick and easy to apply, with easy to understand instructions, and as such became an instant success. They are actual a sister brand to Kiss and second only in size, in the artificial nail market, to this other family member.
Choose Broadway for all of your false nail needs - whether you are looking for Design, French or Natural looks in short, medium or long then Broadway have the solution for you. Design nails are those combined with nail art for truly spectacular styles including the fashion Diva range. Top French looks from Broadway include Fast French for a ten minute French manicure, Real Life with short length so you can have beautiful nails and still go about your everyday business, and Deceptions which have a clever moon design at the cuticle so they look even more like the real thing. Finally their Natural ranges include the 2 Step collection for their most natural look in favourites Natural Square and Sporty Round.
Another top seller is the professional range's Real Life Brush on Gel Nail Kit which is a gel nail which does just simply brush on making them perfect for beginners.
Today Broadway Nails are still brand leaders and remain at the forefront of innovation in temporary nails with their recently launched imPRESS range being something of a wonder - a so called revolutionary way to apply polish - which is basically a press on manicure with no glue or polish drying time and immediate results. Plus they are endorsed by Nicole Scherzinger so they are bound to be very popular.
Choose Broadway for beautiful nails, even if yours aren't!