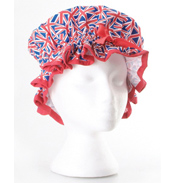 Union Jack Shower Cap
£9.00
Opal London is a leading brand of bath and body products established in the 1970's. They were one of the first companies to have a 'green' conscience whereby they agreed to only produce the highest quality products they could, sourcing their products ethically and from sustainable resources, and to trade fairly with business partners across the world.
Today they remain true to their original intentions, and travel worldwide visiting all of their accessories suppliers to ensure that they fully understand and agree with how the products are made and sourced and toiletry items such as soaps and creams are actually sourced from the UK.
The spa and bath range is brilliant with a wide range of massage and body brushes including sisal, a natural fibre from the agave plant; ergo-form which combines natural bristles with rubber pins for a firmer massage; pure bristle; loofah, a type of vine the fruit of which is used to produce a natural exfoliator as well as bamboo.
The all white spa waffle range is just like range you see in luxury hotels and spas, with robes, spa slippers, hair bands and bags being available so you can have the spa look at home, or for use at the gym. This range is also very good for guest visits to make them feel extra special.
Other bath and shower items include sponges, and the super absorbent range of towels which has an extremely popular hair turban, and other bath accessories.
Bath time would of course not be the same without a bath duck which first became really popular in the 70's after a Sesame Street character called Ernie carried his rubber ducky everywhere! Opal have a great range of ducks in their 'Quackers' range, including traditional yellow as well as some other bath duck icons so make sure your bath time includes a friendly floaty.
Other Opal ranges include Boudoir with sequin sleep masks, floating candles and rose guest soaps and an excellent variety of hand and feet products consisting of moisturising (and exfoliating) gloves and socks, Bio Booster footwear, and other manicure and pedicure tools.
Top selling items include the award winning Opal Staywarm Cherry stone pillow and Magic Wand.
Packaging is kept to a minimum, and although clearly branded as Opal London, you won't be bombarded with fancy pictures and logos because they simply let the products speak for themselves. Only the best is good enough for Opal which is why you will find that they only produce the finest range of bath and body products for you to use.