Gold Kohl Pencil
£3.99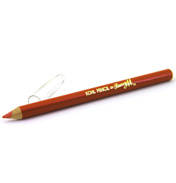 Orange Kohl Pencil
N/A
If you are after an Eyeliner pencil or pen then you have come to the right place. Barry M has an excellent range of eyeliners and kohls (or even guyliners!).
Eyeliners are available as either a standard kohl pencil, retractable eyeliner pen or as a liquid eyeliner. Standard pencils are great in that they can be sharpened to a sharp point for extra control in application, they can be smudged easily too. On the other hand the good thing about the retractable pen is that they do not need sharpening so are very easy to use. Liquid eyeliners, with integral brush, are best for deep bold colour and for a strong defined look. They are also superb for creating those sexy sixties looks and are long wearing.
Use them to outline, define, and to help create different looks. For an eye opening hint, try the white pencil applied just inside the lower eyelids – this will really help brighten up the eye and makes eyes appear larger.
Define your eyes with Barry M's Pencil Liners and Pens range.