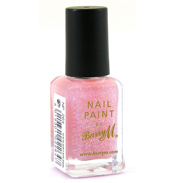 Pink Iridescent Nail Paint
N/A
Barry M has the nail market well and truly covered with the immense colour palette of nail varnishes and nail paints, favourites of which we have chosen. Whatever your colour finish, whether it be subtle, bold, neon, limited edition or glitter, then Barry M has the solution for you. They also have an innovative range of nail varnish effects in the crackle nail polish 'instant nail effects'.
The nail paints are last lasting and are easy to apply and quick drying. You can also use them on acrylics or natural nails.
The Crackle finishes or Mock-Croc finish is really astounding and amazing to see in action. They are applied over your existing nail colour when almost dry, just one stroke and then wait for the magic to happen – the unique look appears right before your eyes in a matter of minutes. As they are used in conjunction with other Barry M Nail paints the options are really endless so experiment to your hearts content!
So choose us as your Barry M Nails stockist for beautiful nails.