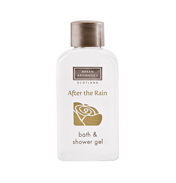 After the Rain Bath & Shower Gel
£4.99
The beautiful Isle of Arran is located just off the west coast of Scotland and is home to Arran Aromatics which is a family founded business which was created some twenty years ago. It started from a passion not only for the Island but a passion to create simple, fragrant, and most importantly, the most natural products possible, and to make the best products they can, all on the wildly attractive base of Arran. Still today the wide ranges of skin care and body care products are manufactured at the Home Farm, Arran. The only difference being that originally they had just a handful of products and now their range is significantly bigger!
Here you will find a selection of our favourite Arran Aromatic's products including the timeless After the Rain collection. They have handmade soaps, scented candles, body creams, bath products and gifts a plenty.
With spectacular scenery all around, calmness, and a big sense of community, it is no wonder that the products Arran Aromatic creates are that little bit special.
Somehow these products are able to capture the spirit of the Isle of Arran in all her beauty, so choose Arran Aromatics and pass on a little bit of this spirit to someone you love.