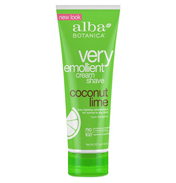 Very Emollient Cream Shave Coconut Lime
£7.99
Very Emollient Cream Shave Mango Vanilla
£7.99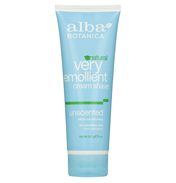 Very Emollient Cream Shave Unscented
£8.99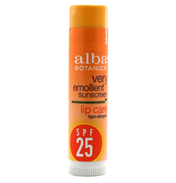 Very Emollient Sunscreen Lip Care Lip Balm SPF25
£4.99
Hair Care:
Everybody wants to feel fresh-faced and have a radiant complexion, well with the Alba Botanica range of hair care products it is possible! They are natural, botanical products that are 100% vegetarian and not tested on animals. They want to 'inspire and uplift women from head to soul'!
The Hair Washes and Conditioners are available in a range of invigorating scents, including Plumeria, Honeydew, Gardenia and Mango. Each type is aimed at different hair types so there is something for everyone. Gardenia to smooth frizzy hair, Plumeria for coloured hair, Mango to add volume and Honeydew to add shine.
Explore our range of Alba Botanica Hawaiian hair care products and you will not be disappointed with the quality and care that is put into each and every product.
Skin Care:
The Alba Botanica range of skin care products includes everything from Facial Washes to Sun Lotions and Eye Gels! You can rest assured that this range is natural and botanical meaning that it is free from things like parabens, artificial colours and petrolatum.
They aim to make the maximum use of natural ingredients from plant sources and do not test their products animals or use any ingredients that have been.
The tropical scented skin care range includes facial cleansers like the Pineapple Enzyme Cleanser that uses pineapple enzymes to refine pores and wash away impurities. The range of suncare products includes Aloe Vera, Tea Tree and Kona Coffee products, each renowned for their soothing and healing properties.